Expertise in math, engineering, market knowledge, and programming
Industry-leading Shift Factor calculation and Economic Dispatch Optimization capabilities
Rapid response to customer needs and requests
Almost half our customers either develop or manage renewable assets.
Renewable developers need to find the most lucrative sites fast. You can't afford to waste your time on sites that won't actually make money in the markets. Additionally, you need to find the optimal size capacity for each lucrative site.
Our set of tools is specifically designed to help renewable developers get to the best sites and sizes as fast as possible. Our fast, thorough tools make sure your analysis includes bus injection power flow, economic dispatch optimization, and contingency evaluation.
You need to understand the impact of renewable generation queue development and transmission network upgrades on your renewable assets.
Whether its with PROMOD or actual ISO market data, our toolset helps you understand congestion and curtailment drivers.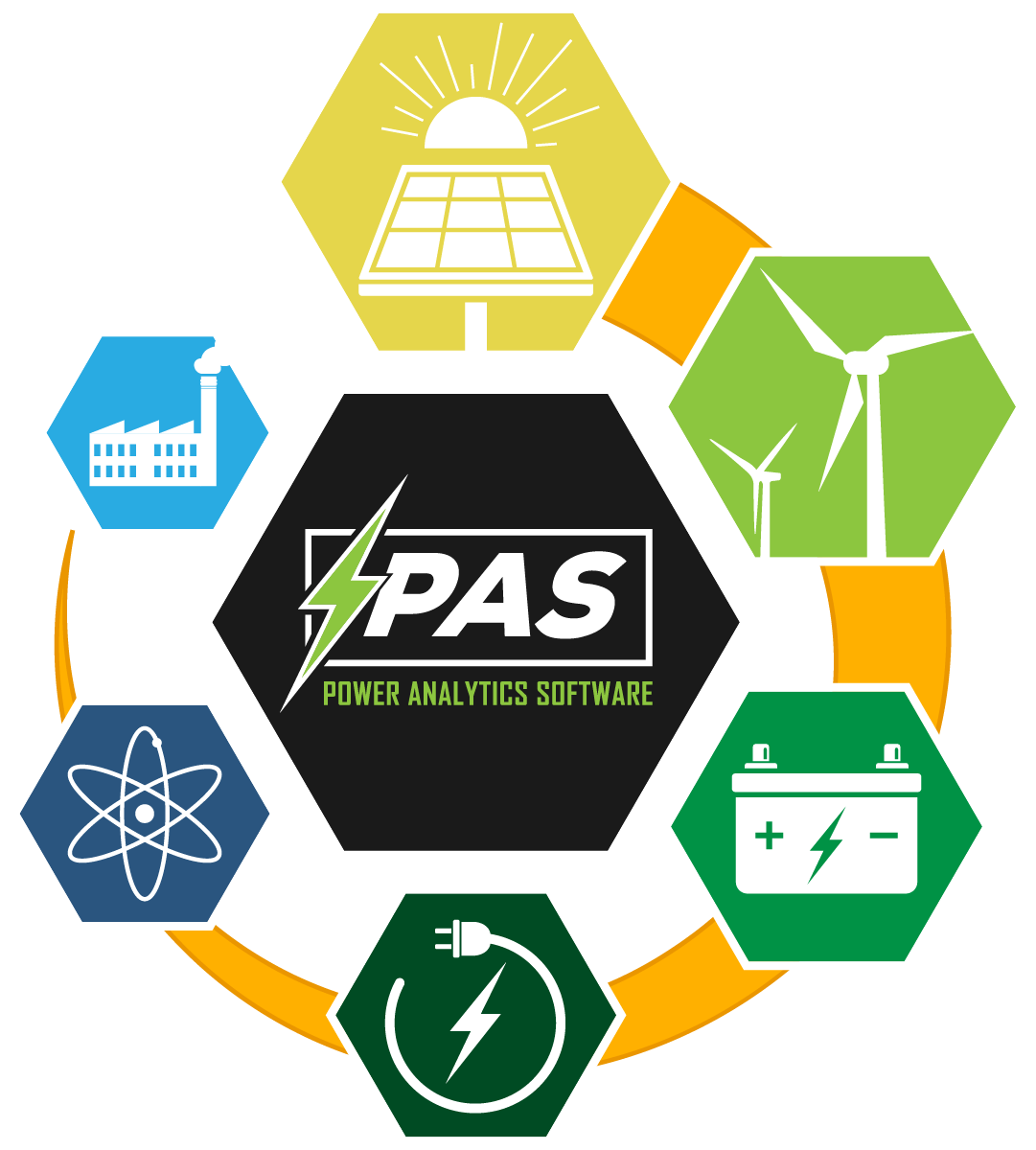 Power Analytics Software's
36-Hour Fix
This is our chance to put our finger right on one of the biggest problems in the industry: slow development time.
When a software change would save you time, you can't wait weeks or months. You need to deliver results right away or you'll lose opportunities and revenue.
Our 36-hour Fix will help you deliver when it counts, so you can leave your competition in the dust.
The 36-hour Fix is our pledge to add anything you want to our programs. And to add it fast.
This is how our programs stay hot.
This is good for you because you get (i) the features you want and (ii) the benefit of everyone else's good ideas.
Get the benefit of more than 10,000,000 user hours
356 new features and improvements since December 2020.
When you become our customer, you aren't just getting a program. Your license includes the cost of unlimited software development and training. Think of us as your hired development team.
The next time you catch yourself doing the same task over and over, let us automate it for you!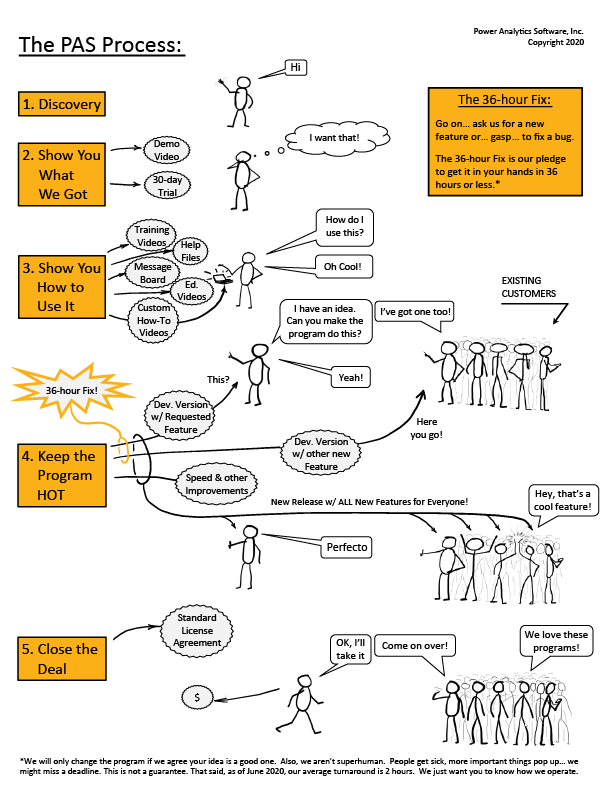 Five-Star Training Feedback
Empowering your team with the skills they need to succeed.
"Steve educated our team on the PROMOD Analysis Tool's intricacies with humor and good spirit. It is evident that Steve and the Power Analytics Software team are constantly seeking to improve the existing software and to innovate within the space. We will certainly be booking additional trainings in the future."
"Prior to my introduction to the Power Analytics Software, I found extracting data analytics from PROMOD to be clunky and difficult by comparison to other production cost modeling software. Power Analytics Software has completely enhanced my experience with PROMOD to previously unimaginable heights."
"The training felt very personal, practical, and focused on the specific needs of our company."
"This training was cut short due to time constraints, but Steve did an excellent job of covering the topics in a condensed time. A+."
"Everything [in the training session] was really great! I cannot think of anything for improvement."
Become a Pro-Level Analyst Through
Continuous Learning
100+ videos for guided step-by-step learning.
Securely use your data in training sessions, so you can apply lessons right away.
Unlimited Virtual Training
Regular training , using your own data , ensures you're leveraging all our newest features.
Advance from rookie modeler to Pro-Level with our Pro Tips. Be the best.
Here are 3 key reasons why investing in training is crucial for modeling teams with both new users and pros with 10+ years of experience:
Customized Learning Paths: Our training adapts to each team member's skill level, ensuring that everyone is well-versed in our software's capabilities to streamline PROMOD, regardless of their experience.
Staying Ahead of the Curve: As the demand for reducing congestion grows, it's essential to keep your team updated on the latest features and best practices. Our 5-Star training facilitates continuous learning, maintaining your team's competitive edge.
Streamlined Collaboration: When every member of your team is thoroughly trained, communication and collaboration become seamless, resulting in improved processes and increased productivity.
Transform your team's performance with our on-site training, unlimited virtual training, and 24/7 Training Video Library. Reserve your spot today by emailing Support@PowerAnalyticsSoftware.com.
"As a professional trainer, it's easy to spot technical software trainers who are only capable of explaining how to use their GUI, load datasets or run reports. Steve not only does this in spades, but his ability to include relevant grid topology and power flow theory as part of the training experience adds the critical relevance element that helps the learners retain the information presented. His enthusiasm and probing questions keeps the learners engaged in the training activities."
Greg Reed, Technical Training Specialist, Southwest Power Pool.
We take data security seriously. That's why we use the latest encryption technology and rigorous security protocols to protect you and your data. With us, you can trust that your information is safe and secure. Try our platform today and experience the peace of mind that comes from knowing your data is in good hands.
Power Analytics Software is NERC-CIP compliant, doing our part to ensure both the electric grid and your operation are secure and reliable.
We use Microsoft products for their advanced security features. We trust Microsoft to keep our customers' data safe. While we trust Microsoft with your data, we also add proprietary security protocols.
In addition to making our operation more secure, seamless integration behind Microsoft's firewall delivers a smooth experience for you.
All the latest news and updates from PAS
<!—-><!—->
<!—->
<!—->
<!—->
<!—-><!—->
<!—->
<!—->
Attention Congestion Traders! We are excited to announce that Power […]
<!—-><!—->
<!—->
<!—->
<!—->
<!—-><!—->
<!—->
<!—->
Please take a moment to listen to CEO Steve Burchett explain […]
<!—-><!—->
<!—->
<!—->
<!—->
<!—-><!—->
<!—->
<!—->
We're thrilled to announce that we're exhibiting at the #EMC20 Energy Marketplace […]